Social media site Twitter announced last night that it is to increase its character limit up to 280 characters from the 140 character limit that has been in place since the site began. The new character limit is to be used in a trial period of time for a small group of users before hopefully being rolled out to the rest of the Twittersphere. The 140-character limit has been a major sticking point for users over the past decade, and Twitter has discovered that "about 9% percent of tweets are exactly 140 characters". This reveals that it's difficult to stick to that word limit exactly and that users often have to edit and reduce their thoughts to get them under the limit. This is seen as problematic as Twitter don't necessarily want people to censor their tweets or miss out sharing something because the limit is too small. 
Twitter came about as the owners and creators wanted to create a site that allowed users to share "a short burst of inconsequential information". When the site originated in 2006, it was designed to be used via wireless carriers' text-messaging services. As these are limited to 160 characters, 20 characters got reserved for a name, leaving the remainder for the post – the 140-character tweet was born! The limit has been somewhat of a characterising factor over Twitter's lifetime, so the lifting of this now iconic character limit is a big deal in Twitter's world, and for all social media experts. 
If we look back, we can see the company's decision has probably been an idea in their boardroom for some time. Last year, the company decided to remove accompanying @names, photos, videos, GIFs, polls and quote tweets from taking up the 140 limit in order to allow its users to express themselves even better. This shows they were paying attention to users' needs and feedback, and understood it was frustrating enough fitting thoughts into 140 characters without pictures taking up the count. Twitter's Product Manager Aliza Rosen comments on how she "quickly run[s] into the 140 character limit" herself. Musings and thoughts on the character limit have been plentiful over Twitter's lifetime, with many people openly commenting on how the service needs to remove the limits on its most basic function. There are plenty of ways to get around the limit, most of which you will have seen on your own feed. Users often post pictures of text, end a tweet with '…cont.', '1/4' or just reply to their own tweets making what's known as a 'thread'. On the contrary, there are plenty of people that like the limit imposed and consider it a challenge for users to streamline their musings and concentrate them into compact sentences. This makes for easier reading, quicker scrolling, and faster intake of information. 
The testing will be rolled out to Twitter users in all languages apart from Japanese, Chinese and Korean, as it's been discovered that these languages don't require cramming, unlike the English language. In its blog, Twitter comments: "We see that a small percent of Tweets sent in Japanese have 140 characters (only 0.4%). But in English, a much higher percentage of Tweets have 140 characters (9%). Most Japanese Tweets are 15 characters while most English Tweets are 34. Our research shows us that the character limit is a major cause of frustration for people Tweeting in English, but it is not for those Tweeting in Japanese. Also, in all markets, when people don't have to cram their thoughts into 140 characters and actually have some to spare, we see more people Tweeting – which is awesome!" They posted the below image in their blog to illustrate their findings and the differences between languages.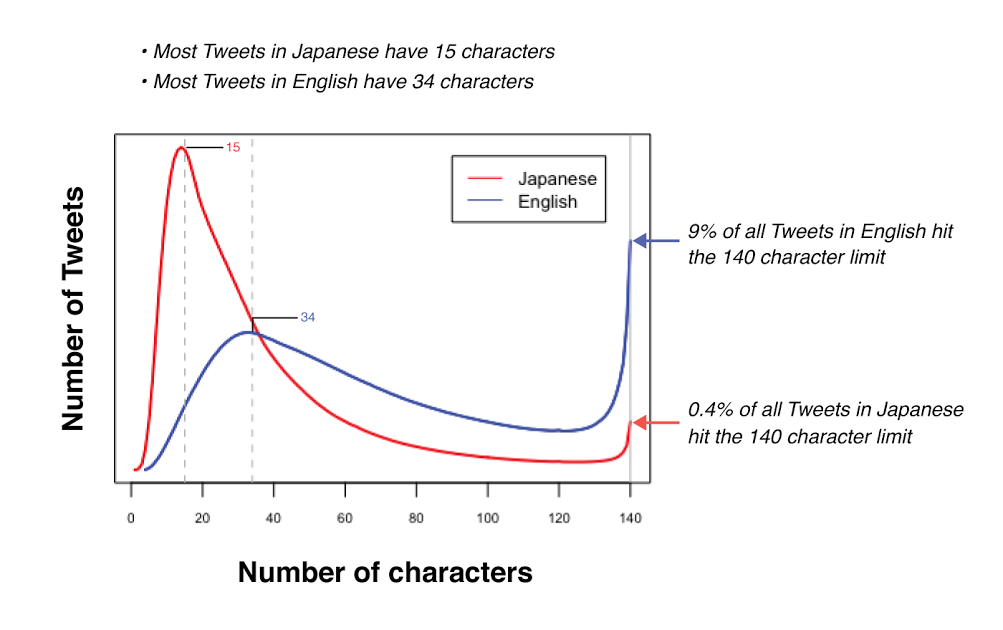 Twitter's main aim is to help its users express themselves properly, and to not feel limited or constricted by a character limit no matter the language they're using. Twitter wants to find the balance between short bursts of information without requiring people to heavily edit what they want to say. We're certainly intrigued to try the new 280 limit should it get rolled out to the rest of Twitter's users and can see it having a major impact on communication across the platform! What are your thoughts on Twitter's new trial?